Waterproof Thermo Jackets
---
 𝘐 𝘭𝘰𝘷𝘦 𝘵𝘩𝘪𝘴 𝘫𝘢𝘤𝘬𝘦𝘵. 𝘐 𝘭𝘪𝘬𝘦 𝘵𝘩𝘢𝘵 𝘵𝘩𝘦 𝘩𝘰𝘰𝘥 𝘪𝘴 𝘳𝘦𝘮𝘰𝘷𝘢𝘣𝘭𝘦 𝘴𝘪𝘯𝘤𝘦 𝘐'𝘮 𝘯𝘰𝘵 𝘢𝘣𝘭𝘦 𝘵𝘰 𝘸𝘦𝘢𝘳 𝘩𝘰𝘰𝘥𝘴 𝘢𝘵 𝘸𝘰𝘳𝘬. 𝘐𝘵 𝘪𝘴 𝘢 𝘯𝘪𝘤𝘦 𝘭𝘰𝘰𝘬𝘪𝘯𝘨 𝘫𝘢𝘤𝘬𝘦𝘵 𝘢𝘯𝘥 𝘷𝘦𝘳𝘺 𝘧𝘶𝘯𝘤𝘵𝘪𝘰𝘯𝘢𝘭. 𝘐 𝘤𝘢𝘯 𝘤𝘩𝘢𝘳𝘨𝘦 𝘮𝘺 𝘱𝘩𝘰𝘯𝘦 𝘢𝘯𝘥 𝘴𝘵𝘢𝘺 𝘸𝘢𝘳𝘮. 𝘐𝘵 𝘰𝘧𝘧𝘦𝘳𝘴 𝘢 𝘯𝘪𝘤𝘦 𝘸𝘢𝘳𝘮𝘵𝘩 𝘸𝘪𝘵𝘩𝘰𝘶𝘵 𝘣𝘢𝘵𝘵𝘦𝘳𝘺, 𝘣𝘶𝘵 𝘸𝘩𝘦𝘯 𝘺𝘰𝘶'𝘳𝘦 𝘪𝘯 𝘵𝘩𝘦 𝘣𝘪𝘵𝘵𝘦𝘳 𝘤𝘰𝘭𝘥, 𝘰𝘳 𝘪𝘧 𝘺𝘰𝘶 𝘯𝘦𝘦𝘥 𝘵𝘰 𝘸𝘢𝘳𝘮 𝘶𝘱 𝘲𝘶𝘪𝘤𝘬𝘭𝘺, 𝘺𝘰𝘶 𝘤𝘢𝘯 𝘵𝘶𝘳𝘯 𝘪𝘵 𝘰𝘯. 𝘈𝘭𝘴𝘰, 𝘵𝘩𝘦 𝘱𝘰𝘤𝘬𝘦𝘵𝘴 (𝘻𝘪𝘱𝘱𝘦𝘳𝘦𝘥) 𝘢𝘳𝘦 𝘢 𝘴𝘰𝘧𝘵 𝘧𝘭𝘦𝘦𝘤𝘺 𝘮𝘢𝘵𝘦𝘳𝘪𝘢𝘭 𝘪𝘯𝘴𝘵𝘦𝘢𝘥 𝘰𝘧 𝘣𝘦𝘪𝘯𝘨 𝘴𝘪𝘭𝘬𝘺 𝘮𝘢𝘵𝘦𝘳𝘪𝘢𝘭. 𝘝𝘦𝘳𝘺 𝘯𝘪𝘤𝘦 𝘵𝘰 𝘸𝘢𝘳𝘮 𝘶𝘱 𝘮𝘺 𝘩𝘢𝘯𝘥𝘴. 𝘐 𝘩𝘢𝘷𝘦𝘯'𝘵 𝘩𝘢𝘥 𝘵𝘰 𝘸𝘢𝘴𝘩 𝘪𝘵 𝘺𝘦𝘵, 𝘣𝘶𝘵 𝘐 𝘥𝘰 𝘬𝘦𝘦𝘱 𝘪𝘵 𝘪𝘯 𝘮𝘺 𝘤𝘢𝘳 𝘴𝘰 𝘪𝘵 𝘪𝘴 𝘢𝘭𝘸𝘢𝘺𝘴 𝘢𝘷𝘢𝘪𝘭𝘢𝘣𝘭𝘦 𝘧𝘰𝘳 𝘶𝘴𝘦. 𝘐 𝘥𝘦𝘧𝘪𝘯𝘪𝘵𝘦𝘭𝘺 𝘳𝘦𝘤𝘰𝘮𝘮𝘦𝘯𝘥, 𝘢𝘯𝘥 𝘢𝘮 𝘭𝘰𝘰𝘬𝘪𝘯𝘨 𝘵𝘰 𝘨𝘦𝘵 𝘵𝘩𝘦 𝘣𝘦𝘴𝘵 𝘧𝘰𝘳 𝘮𝘺 𝘣𝘰𝘺𝘧𝘳𝘪𝘦𝘯𝘥 𝘧𝘰𝘳 𝘩𝘶𝘯𝘵𝘪𝘯𝘨 𝘴𝘦𝘢𝘴𝘰𝘯. 𝘐 𝘳𝘢𝘳𝘦𝘭𝘺 𝘩𝘢𝘷𝘦 𝘵𝘰 𝘳𝘦𝘤𝘩𝘢𝘳𝘨𝘦 𝘵𝘩𝘦 𝘣𝘢𝘵𝘵𝘦𝘳𝘺, 𝘐 𝘭𝘪𝘷𝘪𝘯𝘨 𝘪𝘯 𝘵𝘩𝘦 𝘴𝘰𝘶𝘵𝘩 𝘈𝘓𝘚𝘈𝘒𝘈, 𝘵𝘩𝘪𝘴 𝘫𝘢𝘤𝘬𝘦𝘵 𝘪𝘴 𝘢 𝘭𝘪𝘧𝘦 𝘴𝘢𝘷𝘦𝘳 𝘧𝘰𝘳 𝘮𝘦 𝘢𝘯𝘥 𝘮𝘺 𝘧𝘢𝘮𝘪𝘭𝘺.
⭐️⭐️⭐️⭐️⭐️
𝘔𝘢𝘳𝘺 𝘈𝘶𝘣𝘶𝘳𝘯 ✅ 𝘝𝘦𝘳𝘪𝘧𝘪𝘦𝘥 𝘱𝘶𝘳𝘤𝘩𝘢𝘴𝘦
ARE YOU TIRED AT THE COLD?  SO WE GOT YOU.
This is the warmth Heather  jacket ever. It is equipped with 9, 11 and 17 carbon fiber heating zones. It can heat up your entire core body area and keeps you warm, there are 6 heating zones near the front pockets that can keep your hands warm at the same time. You can adjust 3 heating modes by short pressing the power button (Red, Blue, and Green).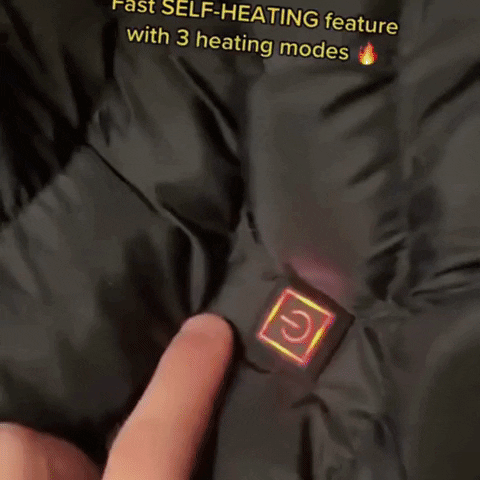 HOW TO USE?
With just one click of a button, our heated jacket will quickly show you what real warmth is! This jacket comes in all sizes, so nobody is left out!
The is jacket is equipped with high capacity 54Wh 12V CE/FCC certified battery can heat the heating elements up to 140°F within a few seconds. Our heated jackets can keep warm up to 3.5-4 hours at the high level, 9-10 hours at the low level. The USB Type-C port can be used to charge smartphones and other mobile devices.
Completely waterproof 
This product has no reviews yet.