Volcano Essential Oil Humidifier
---
𝘐 𝘭𝘰𝘷𝘦 𝘵𝘩𝘦 𝘴𝘩𝘦𝘦𝘳 𝘧𝘰𝘨 𝘪𝘵 𝘦𝘮𝘢𝘯𝘢𝘵𝘦𝘴 𝘢𝘯𝘥 𝘵𝘩𝘦 𝘰𝘳𝘢𝘯𝘨𝘦 𝘤𝘰𝘭𝘰𝘶𝘳 𝘪𝘮𝘪𝘵𝘢𝘵𝘪𝘯𝘨 𝘵𝘩𝘦 𝘧𝘭𝘢𝘮𝘦𝘴. 𝘞𝘦 𝘭𝘰𝘷𝘦𝘥 𝘪𝘵 𝘴𝘰 𝘮𝘶𝘤𝘩 𝘵𝘩𝘢𝘵 𝘸𝘦 𝘣𝘰𝘶𝘨𝘩𝘵 𝘢𝘯𝘰𝘵𝘩𝘦𝘳 𝘰𝘯𝘦, 𝘵𝘰 𝘩𝘢𝘷𝘦 𝘰𝘯𝘦 𝘪𝘯 𝘦𝘢𝘤𝘩 𝘧𝘢𝘷𝘰𝘳𝘪𝘵𝘦 𝘴𝘪𝘵𝘵𝘪𝘯𝘨 𝘢𝘳𝘦𝘢. 𝘓𝘢𝘴𝘵𝘴 𝘢 𝘭𝘰𝘯𝘨 𝘵𝘪𝘮𝘦 𝘢𝘯𝘥 𝘐 𝘧𝘪𝘯𝘥 𝘪𝘵 𝘷𝘦𝘳𝘺 𝘤𝘢𝘭𝘮𝘪𝘯𝘨 𝘢𝘯𝘥 𝘦𝘯𝘫𝘰𝘺𝘢𝘣𝘭𝘦. 𝘌𝘹𝘤𝘦𝘭𝘭𝘦𝘯𝘵 𝘧𝘰𝘳 𝘮𝘦𝘥𝘪𝘵𝘢𝘵𝘪𝘰𝘯, 𝘐 𝘢𝘮 𝘢 𝘣𝘦𝘨𝘪𝘯𝘯𝘦𝘳 𝘢𝘯𝘥 𝘸𝘢𝘵𝘤𝘩𝘪𝘯𝘨 𝘵𝘩𝘦 "𝘧𝘭𝘢𝘮𝘦𝘴" 𝘩𝘦𝘭𝘱 𝘮𝘦 𝘤𝘢𝘭𝘮 𝘮𝘺 𝘮𝘪𝘯𝘥                                       
⭐️⭐️⭐️⭐️⭐️
𝘌𝘳𝘪𝘤𝘢 𝘝-🇱🇷 ✅ 𝘝𝘦𝘳𝘪𝘧𝘪𝘦𝘥 𝘱𝘶𝘳𝘤𝘩𝘢𝘴𝘦
Make your room smelling amazing: The 350ml capacity water tank can be filled without frequently adding water for long-lasting Humification. You can put 2-3 drops of essential oil to leave your room smell amazing.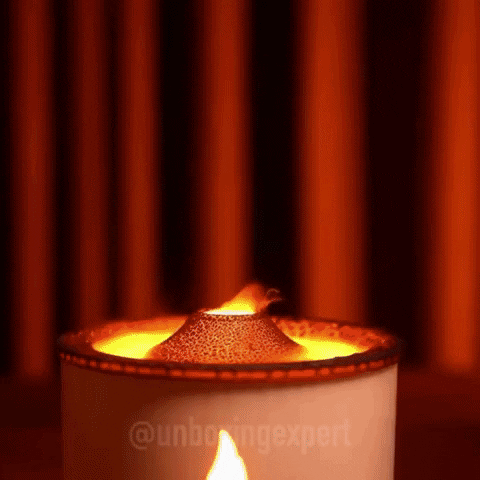 Led flame light: This temperature ambiance night creates a warm atmosphere and help you enjoy a comfortable sleep, soft night light, relieve stress, adding a little romance to ordinary life 
This product has no reviews yet.