Rezaba Space Dog Galaxy Projector
---
 𝘐 𝘱𝘭𝘢𝘤𝘦𝘥 𝘪𝘵 𝘪𝘯 𝘮𝘺 𝘳𝘰𝘰𝘮, 𝘸𝘩𝘦𝘳𝘦 𝘪𝘵 𝘤𝘢𝘯 𝘧𝘶𝘭𝘭𝘺 𝘴𝘢𝘵𝘪𝘴𝘧𝘺 𝘵𝘩𝘦 𝘱𝘳𝘰𝘫𝘦𝘤𝘵𝘪𝘰𝘯 𝘪𝘯 𝘵𝘩𝘦 𝘭𝘪𝘷𝘪𝘯𝘨 𝘳𝘰𝘰𝘮 𝘢𝘴 𝘸𝘦𝘭𝘭 𝘢𝘴 𝘤𝘰𝘷𝘦𝘳 𝘵𝘩𝘦 𝘦𝘯𝘵𝘪𝘳𝘦𝘵𝘺 𝘰𝘧 𝘮𝘺 𝘳𝘰𝘰𝘮. 𝘐 𝘢𝘥𝘰𝘳𝘦 𝘪𝘵𝘴 𝘉𝘭𝘶𝘦𝘵𝘰𝘰𝘵𝘩 𝘧𝘦𝘢𝘵𝘶𝘳𝘦. 𝘛𝘩𝘦 𝘢𝘶𝘥𝘪𝘰 𝘲𝘶𝘢𝘭𝘪𝘵𝘺 𝘪𝘴 𝘦𝘹𝘤𝘦𝘭𝘭𝘦𝘯𝘵. 𝘐𝘵 𝘪𝘴 𝘪𝘥𝘦𝘢𝘭 𝘧𝘰𝘳 𝘨𝘢𝘵𝘩𝘦𝘳𝘪𝘯𝘨𝘴 𝘸𝘪𝘵𝘩 𝘮𝘺 𝘱𝘢𝘭𝘴. 𝘛𝘩𝘦 𝘴𝘵𝘢𝘳𝘴 𝘸𝘰𝘯'𝘵 𝘢𝘭𝘸𝘢𝘺𝘴 𝘣𝘦 𝘷𝘪𝘴𝘪𝘣𝘭𝘦 𝘸𝘩𝘦𝘯 𝘶𝘴𝘪𝘯𝘨 𝘵𝘩𝘪𝘴 𝘴𝘵𝘢𝘳𝘳𝘺 𝘴𝘬𝘺 𝘭𝘪𝘨𝘩𝘵 𝘱𝘳𝘰𝘫𝘦𝘤𝘵𝘰𝘳. 𝘠𝘰𝘶 𝘤𝘢𝘯 𝘴𝘸𝘪𝘵𝘤𝘩 𝘰𝘯 𝘰𝘳 𝘰𝘧𝘧 𝘵𝘩𝘦 𝘴𝘵𝘢𝘳𝘴. 𝘔𝘶𝘤𝘩 𝘣𝘦𝘵𝘵𝘦𝘳 𝘵𝘩𝘢𝘯 𝘐 𝘢𝘯𝘵𝘪𝘤𝘪𝘱𝘢𝘵𝘦𝘥, 𝘪𝘵𝘴 𝘢𝘶𝘥𝘪𝘰 𝘲𝘶𝘢𝘭𝘪𝘵𝘺 𝘮𝘢𝘺 𝘤𝘰𝘮𝘱𝘦𝘵𝘦 𝘸𝘪𝘵𝘩 𝘵𝘩𝘢𝘵 𝘰𝘧 𝘵𝘩𝘦 𝘣𝘳𝘢𝘯𝘥'𝘴 𝘉𝘭𝘶𝘦𝘵𝘰𝘰𝘵𝘩 𝘴𝘱𝘦𝘢𝘬𝘦𝘳𝘴. 𝘛𝘩𝘦 𝘱𝘳𝘰𝘫𝘦𝘤𝘵𝘰𝘳'𝘴 𝘭𝘪𝘨𝘩𝘵 𝘪𝘴 𝘳𝘦𝘢𝘭𝘭𝘺 𝘷𝘪𝘣𝘳𝘢𝘯𝘵 𝘢𝘯𝘥 𝘤𝘰𝘭.
⭐️⭐️⭐️⭐️⭐️
𝘚𝘪𝘥𝘯𝘦𝘺 𝘗 🇱🇷 ✅ 𝘝𝘦𝘳𝘪𝘧𝘪𝘦𝘥 𝘱𝘶𝘳𝘤𝘩𝘢𝘴𝘦
 This Space-Dog Projector allows you Transform your room into a magical oasis. Coming  21 color light modes and allows you  shine the effect on your room. It also makes perfect gift for any occasion.
 360 degree rotation, White Noise Design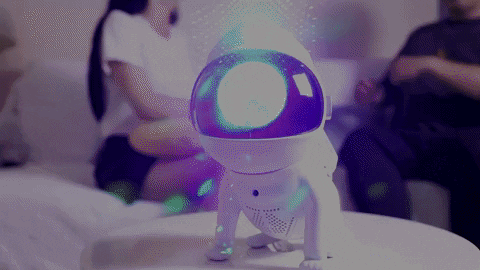 21 Lighting Effect with the Rhythm
 Remote Control, Smart phone app control.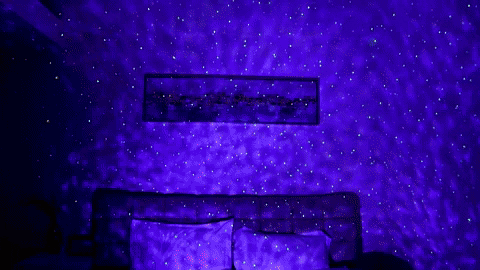 Works with Amazon Alexa app, Smart tuya app, Google assistant.
 Timer Setting, Bluetooth Speaker 
All orders are processed within 24-48 hours and we prioritize the fasting shipping possible! Every order includes a 30-day money-back guarantee and painless return process. We strive for 100% satisfaction
This product has no reviews yet.