Rezaba™ Portable Wireless Juicer
---
PORTABLE MIGHTY JUICER, GETS EVERY LAST DROP, EVERY TIME: The Rezaba Juice is the ultimate portable juicer that can be carried anywhere in your bag for any outdoor adventure! This USB-C rechargeable electric citrus juicer is powerful enough to last numerous juicing sessions. The one-size fits all design works with oranges, apples, pears, grapes, lemons, watermelon, and even pomegranates.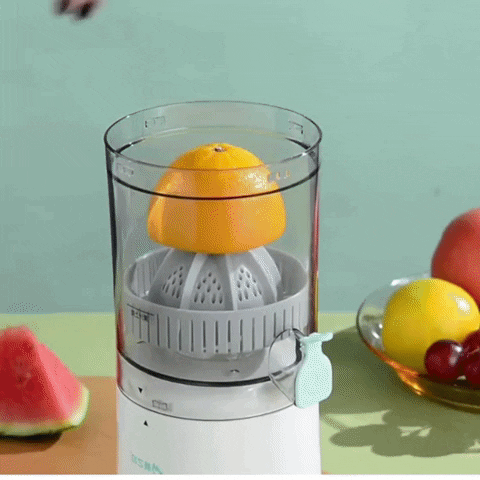 EASY TO USE, CLEAN AND STORE: Save yourself time and effort. Simply unlock the lid to disassemble the parts and wash the citrus press juicer with water using the included cleaning brush, then wipe the main juicer engine with a wet cloth. Compared to bulky juicers, the Rezaba juicer saves tons of space in your kitchen.
MORE JUICE WITH LESS WORK: Are you tired of manually squeezing juice for your morning breakfast? This citrus squeezer does it for you with a simple push of a button. The 360° all-directional motor will get rid of all the pulp residues out of the juice without having to de-seed the fruit or having to peel off the skin.
ALL THE JUICE, NONE OF THE WASTE: All the nutrients should go into your body, not on the counter table! We have designed this electric lemon juicer with 4 anti-slip feet to prevent slips and slides as well as a drip-free nozzle that keeps your kitchen top clean.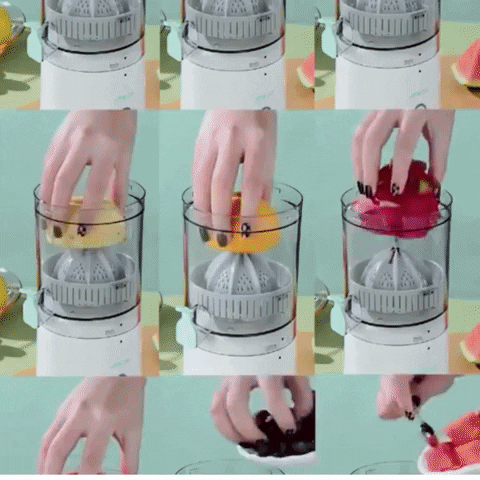 HASSLE-FREE, ZULAY GUARANTEE: We love and take pride in our automatic juicer, and we back this up with a Lifetime Guarantee. The high-quality, BPA-free ABS material of this juicer machine will produce Fresh and Healthy juice for both kids and adults.

GOOD TO KNOW
1-Please do NOT use juicer machine when charging, unplug the USB cable, and then use the juicer.
2- When you get the juicer, please fully charge before use.
3- If you press button is showing a red light, it means it needs to be charge. White light means fully charge and ready for use.
1- Rotate clockwise and clamp the cup body
2-Put in the juicer head.
3-Close and fasten the top cover.
4-Press and hold the switch for 2 seconds to reset it.
5-Cut the fruit in half.
6-Put the fruit into the cup.
7-Close and fasten the top cover.
8-Jog Switch and waiting for juicing.
9-Open the juice outlet to release the juice.
All orders are processed within 24-48 hours and we prioritize the fasting shipping possible! Every order includes a 30-day money-back guarantee and painless return process. We strive for 100% satisfaction
This product has no reviews yet.