Portable Electric Heater
---
Save on energy & electricity ⚡️ bills 
This upgraded ceramic electric heater is a wall outlet portable space heater for small spaces use, with compact structure and lightweight body, adopts a high-quality ceramic PTC heating plate, which can quickly heat up in 3 seconds to output a constant temperature, let you are surrounded by warmth quickly and get rid of the annoying cold.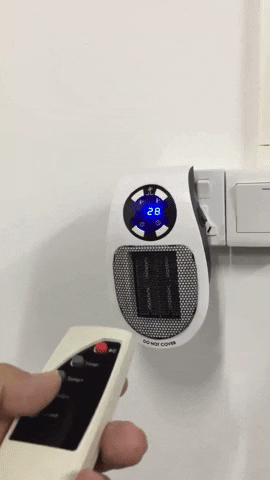 FEATURING WITH:
Ceramic PTC Heating Plate for 3 Seconds Fast Heating
High-Definition LED Display
Built-in 1-12 Hour Timer
Overheat Protection
180° Rotating Wall 3-Jack
Adopt Thermostat Design
Low-wattage and Energy-saving space heater
Compact, Portable, Small and Durable Structure Design
Quiet to Use for Sleeping Soundly
A Safe Heater which certified UL and CSA
Not satisfied? 100% money-back guarantee! no questions asked. No money wasted.
This product has no reviews yet.