Double Head Dumpling Maker
---
𝙇𝙤𝙫𝙚𝙙 𝙩𝙝𝙖𝙩 𝙄 𝙬𝙖𝙨 𝙖𝙗𝙡𝙚 𝙩𝙤 𝙨𝙝𝙖𝙥𝙚 𝙖𝙣 𝙥𝙧𝙚𝙨𝙨 𝙙𝙪𝙢𝙥𝙡𝙞𝙣𝙜𝙨 𝙦𝙪𝙞𝙘𝙠𝙡𝙮 𝙖𝙣𝙙 𝙚𝙖𝙨𝙞𝙡𝙮. 𝘾𝙡𝙚𝙖𝙣 𝙪𝙥 𝙬𝙖𝙨 𝙨𝙞𝙢𝙥𝙡𝙚 𝙖𝙣𝙙 𝙩𝙝𝙚 𝙫𝙖𝙧𝙞𝙚𝙩𝙮 𝙤𝙛 𝙨𝙞𝙯𝙚𝙨 𝙞𝙨 𝙜𝙧𝙚𝙖𝙩! 𝙄'𝙙 𝙧𝙚𝙘𝙤𝙢𝙢𝙚𝙣𝙙 𝙩𝙝𝙞𝙨 𝙛𝙤𝙧 𝙖𝙣𝙮𝙤𝙣𝙚 𝙨𝙩𝙖𝙧𝙩𝙞𝙣𝙜 𝙤𝙪𝙩 𝙖𝙩 𝙝𝙤𝙢𝙚𝙢𝙖𝙙𝙚 𝙙𝙪𝙢𝙥𝙡𝙞𝙣𝙜𝙨!
⭐️⭐️⭐️⭐️⭐️
𝘼𝙡𝙞𝙨𝙝𝙖 𝙆-✅ 𝙫𝙚𝙧𝙞𝙛𝙞𝙚𝙙 𝙥𝙪𝙧𝙘𝙝𝙖𝙨𝙚
Make dumplings more convenient and effective! Enjoy delicious dumplings together. This perfect dumpling maker can save you time and effort. Easy to use and easy to wash. With a simple press down, you will have two dumplings at the same time.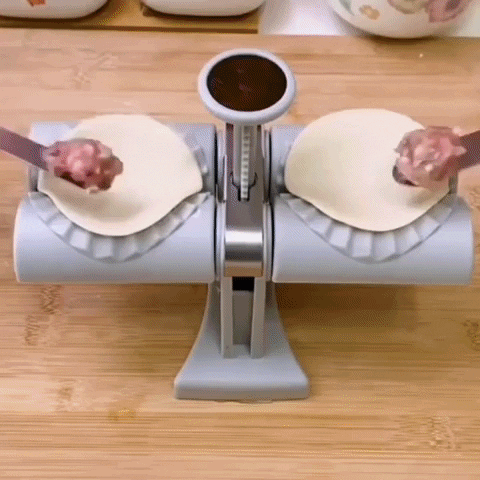 The dumpling maker is designed with a double head so you can make two dumplings at a time, very convenient and easy. Just one push to make the beautiful wavy-shaped dumplings. Its  perfect gift you can offer to someone for any occasion such as: Christmas, mother's day, thanksgiving etc.
Made of high-quality materials, which is sturdy and durable, and the non-slip rubber pad on the base is stable. Easy to use and clean, just rinse the flour with water.
All orders are processed within 24-48 hours and we prioritize the fasting shipping possible! Every order includes a 30-day money-back guarantee and painless return process. We strive for 100% satisfaction
This product has no reviews yet.