Aromatherapy Lamp Air Humidifier
---
 Looking for a way to add a touch of vintage style to your home while also improving air quality and creating a relaxing atmosphere? Look no further than the Aromatherapy Retro Lamp Air Humidifier Aroma Diffuser!
This unique device combines the classic look of a retro lamp with the functionality of an air humidifier and aromatherapy diffuser. With its 1200mAh lithium battery, you can use it wirelessly for up to 6 hours, making it perfect for use anywhere in your home.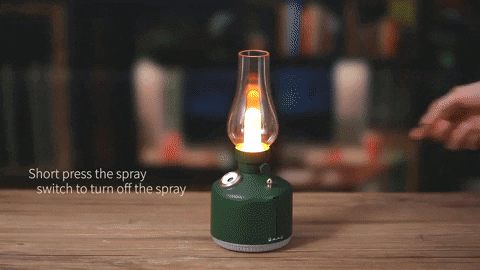 Improved air quality: This diffuser humidifies the air, adding moisture to the environment and helping to alleviate dryness and irritation in your throat, skin, and nasal passages. It can also help to reduce airborne allergens and pollutants, improving the overall quality of the air you breathe.
Aromatherapy benefits: This diffuser allows you to add your favorite essential oils, creating a soothing and calming atmosphere that can help to relieve stress, anxiety, and promote better sleep. The aromatherapy benefits of essential oils can also help to boost your mood and enhance mental clarity and focus.
Portable design: With its compact and lightweight design, this diffuser is perfect for use in any room or on the go. It's powered by a rechargeable 1200mAh lithium battery, allowing you to enjoy up to six hours of continuous use without needing to be plugged in.
Retro lamp design: This diffuser features a beautiful retro lamp design that can add a touch of elegance and style to any space. The soft lighting can also create a cozy and relaxing ambiance, helping you to unwind and de-stress after a long day.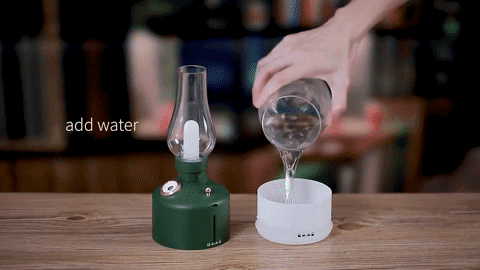 Easy to use: With its simple one-button operation, this diffuser is incredibly easy to use. Simply fill the water tank, add a few drops of your favorite essential oil, and turn it on to enjoy the benefits of aromatherapy and humidification. Its compact size and wireless design also make it easy to clean and maintain.
1200mAh Lithium Battery: The device comes with a built-in 1200mAh lithium battery that can last for up to 10 hours on a single charge. You can use the device wirelessly, making it easy to carry around and use wherever you go.
This product has no reviews yet.